Peaches with strawberry sauce
Peaches with strawberry sauce
Prep 10 mins | Cook 5 mins | Serves 4
4 ripe peaches, sliced and stones removed
Reduced fat vanilla ice-cream
Strawberry sauce (makes 1 cup)
250g strawberries, hulled and chopped
1 tbs icing sugar
Step 1 To make strawberry sauce, combine strawberries and icing sugar in a small saucepan. Bring to the boil, stirring occasionally, over medium heat. Reduce heat and simmer for 3 minutes. Set aside to cool. Using a stick blender, blend until smooth. Transfer to a jug and chill until cold.
Step 2 To serve, place peaches in serving bowls. Drizzle with strawberry sauce and serve with scoops vanilla ice-cream.
Good for you ...
Peaches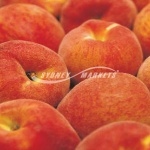 A source of vitamin C, which contributes to the normal functioning of the body's immune system.
A source of dietary fibre which contributes to the normal function of the intestine.
Peaches have a low GI (42) which means their natural sugars are broken down slowly for absorption into the bloodstream.