Peaches with fresh strawberry sauce & ice-cream
Peaches with fresh strawberry sauce & ice-cream
Preparation 15 mins + chilling time | Cooking 5 mins | Serves 4
4 ripe peaches
Reduced fat vanilla ice-cream

Fresh strawberry sauce (makes 1 cup):
250g strawberries, hulled and chopped
1 tbs icing sugar
Step 1 To make strawberry sauce, combine strawberries and icing sugar in a small saucepan. Bring to the boil, stirring occasionally, over medium heat. Reduce heat and simmer for 3 minutes. Set aside to cool. Using a hand-held blender, blend until smooth. Transfer to a jug and chill until cold.
Step 2 Halve, remove stones and cut peaches into 1cm-thick wedges. Layer peaches, ice-cream and strawberry sauce in serving glasses and serve.
Note; store any leftover strawberry sauce in an airtight container in the fridge for up to 2-3 days.
Good for you ...
Strawberries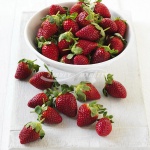 A good source of vitamin C which contributes to formation of collagen and thus plays a role in healthy gums, teeth, bones, cartilage and skin.
A source of folate, a B vitamin needed for normal blood formation.
Provide dietary fibre, which is important for the normal functioning of the intestine.
Also contain lutein, one of the carotenoid family that is involved in normal eye health.