Peach & passionfruit tart
Peach & passionfruit tart
Prep 25 mins + resting & cooling time | Cook 30 mins | Serves 6
1½ cups plain flour
100g butter, chilled and cubed
⅔ cup caster sugar
⅓ cup chilled water
1 egg white, lightly whisked
½ cup almond meal
750g (about 4 large) just-ripe peaches,
stone removed and cut into 1.5cm-thick slices
To serve:
3 passionfruit, pulp removed
Icing sugar, for dusting
Greek-style natural yoghurt or whipped cream
Step 1 To make pastry, place flour, butter and ⅓ cup caster sugar in a food processor. Process until mixture resembles fine breadcrumbs. Add chilled water and process until mixture comes together into a ball. Turn onto a lightly floured surface and gently knead until smooth. Wrap in plastic wrap and rest in the fridge for 30 minutes.
Step 2 Preheat oven to 200°C/180°C fan-forced. Line a large baking tray with non-stick baking paper. Roll pastry out between 2 sheets of baking paper to form a 30cm circle. Place pastry onto prepared tray. Lightly brush with egg white and sprinkle with almond meal.
Step 3 Combine peaches and 2 tbs caster sugar in a bowl. Toss to combine. Arrange peaches over pastry leaving a 6cm border around the edge. Fold pastry border over peaches, leaving centre peaches exposed. Brush pastry with egg white and sprinkle with remaining 2 tbs caster sugar. Bake tart for 30-35 minutes until pastry is crisp and pale golden. Set aside to cool for 15 minutes.
Step 4 To serve, drizzle with passionfruit. Dust with icing sugar. Slice and serve warm or at room temperature with yoghurt or whipped cream.
Good for you ...
Yellow Peaches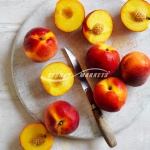 A source of vitamin C, which contributes to the normal functioning of the body's immune system.
A source of dietary fibre which contributes to the normal function of the intestine.
Peaches have a low GI (42) which means their natural sugars are broken down slowly for absorption into the bloodstream.
Peaches with yellow flesh have some beta-carotene which the body converts to vitamin A.