Passionfruit panna cotta with mango
Passionfruit panna cotta with mango
Preparation 20 mins + chilling time | Cooking 10 mins | Makes 6
½ cup milk
600ml thickened cream
½ cup caster sugar
2 tsp vanilla bean extract
4-5 passionfruit (depending on size)
2 tbs warm water
3 tsp powdered gelatine
To serve:
1 ripe mango, flesh thinly sliced
3 passionfruit, pulp removed
Step 1 To make the passionfruit panna cotta, place milk, cream, sugar and vanilla into a medium saucepan. Stir over low heat until sugar dissolves. Slowly bring just to the boil over medium-low heat. Remove from heat.
Step 2 Meanwhile, remove pulp from the passionfruit and push through a sieve to make ¼ cup passionfruit juice (discard the seeds).
Step 3 Place warm water into a teacup. Sprinkle with gelatine and stir until gelatine dissolves. Stir mixture into the cream mixture. Stir in passionfruit juice. Divide mixture between 6 panna cotta moulds, glasses or small bowls. Place on a tray, cover and refrigerate overnight.
Step 4 To serve, dip the base of each mould, glass or bowl into hot water for a few seconds. Run a knife around the edge and turn panna cotta out onto serving plates. Serve with mango slices and passionfruit pulp.
Good for you ...
Mangoes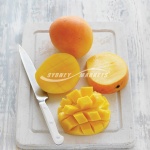 A very good source of vitamin C which contributes to the normal functioning of the body's immune system.
A good source of beta carotene, which the body converts to vitamin A. This vitamin is needed for normal vision. The deeper the colour of the mango flesh, the higher the level of beta carotene. Mango flesh also provides another carotenoid called cryptoxanthin which is being researched for its role in normal eye health.
A source of dietary fibre which is important for the normal function of the intestine.