Passionfruit cupcakes
Prep 30 mins + cooling time | Cook 20 mins | Makes 12
175g butter, softened
3⁄4 cup caster sugar
1 tsp vanilla extract
3 free range eggs (at room temperature)
11⁄3 cups self-raising flour
1⁄2 tsp baking powder
100ml passionfruit pulp (about 4 passionfruit)
Passionfruit frosting:
125g reduced fat spreadable cream cheese
3⁄4 cup icing sugar mixture
1⁄2 tsp vanilla extract
30g butter, softened
2 passionfruit, pulp removed
Step 1 Preheat oven to 180°C/160°C fan-forced. Line a 12 hole x ? cup capacity muffin pan with paper cases.
Step 2 Using an electric mixer, beat butter, sugar and vanilla until creamy. Beat in eggs one at a time, beating well after each addition. Sift over flour and baking powder and beat on low speed until combined then beat for 3 minutes on high until smooth and light. Swirl 100ml passionfruit pulp through the cake mixture. Evenly spoon mixture into paper cases. Bake for 20-25 minutes or until a skewer inserted in the centre comes out clean. Stand in pan for 5 minutes then transfer to a wire rack to cool.
Step 3 To make passionfruit frosting, using electric beaters, beat cream cheese, icing sugar, vanilla and butter in a bowl until smooth and fluffy.
Step 4 When cupcakes are completely cool, top each with cream cheese frosting, spoon over passionfruit pulp and serve.
Good for you ...
Passionfruits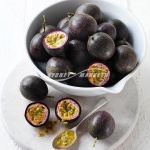 A very good source of dietary fibre which assists normal laxation. Among fruit, passionfruit come top of the class for dietary fibre.
A good source of beta carotene which the body converts to vitamin A. This vitamin is important for normal vision.
A good source of vitamin C which contributes to the normal functioning of the body's immune system.
Provide the B vitamins riboflavin (B2) and niacin (B3), both of which contribute to the normal release of energy from food.