Papaya with coconut yoghurt & granola
Papaya with coconut yoghurt & granola
Prep 15 mins | Serves 4
1 cup thick natural reduced fat yoghurt
1⁄4 cup shredded coconut
700g (about 1 small) ripe papaya
1 tbs lime juice
2-3 cups Granola* or toasted muesli
Reduced fat milk, to serve (if liked)
*Granola is a crunchy roasted breakfast cereal made with rolled oats, nuts and honey or maple syrup. It's available from supermarkets.
Step 1 Combine yoghurt and coconut in a bowl. Set aside for 10 minutes.
Step 2 Meanwhile, peel and deseed papaya. Quarter lengthways and cut into 1⁄2cm-thick slices. Drizzle with lime juice.
Step 3 Spoon granola or toasted muesli into serving bowls. Top with coconut yoghurt and papaya. Serve with milk if liked.
Good for you ...
Papaya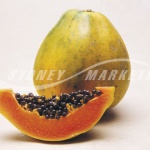 Red-fleshed papaya has higher levels of beta carotene than varieties with paler flesh. The beta carotene is converted into vitamin A in the body and is needed for normal vision.