Papaya, mango & pineapple with lime yoghurt
Papaya, mango & pineapple with lime yoghurt
Prep 20 mins | Cook 5 mins | Serves 4
This is excellent for a healthy breakfast or brunch.
¼ cup shredded coconut
½ medium ripe papaya
1 ripe mango
½ small pineapple
Lime yoghurt:
1 tbs lime juice
1 tsp finely grated lime zest
½ cup thick sweetened natural yoghurt
Step 1 Preheat oven to 180°C/160°C fan-forced. Line a small baking pan with baking paper. Sprinkle with coconut and bake for 5-8 minutes until golden and toasted. Set aside to cool.
Step 2 Peel and deseed papaya. Peel mango and slice off the mango cheeks. Peel pineapple. Cut the fruit into thick slices and arrange on a serving platter or plates.
Step 3 To make lime yoghurt, combine all ingredients in a bowl. Serve with fruit and shredded coconut.
Good for you ...
Papaya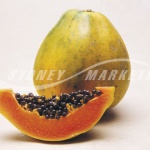 Red-fleshed papaya has higher levels of beta carotene than varieties with paler flesh. The beta carotene is converted into vitamin A in the body and is needed for normal vision.