Oven-roasted tomatoes with mushrooms & scrambled eggs
Oven-roasted tomatoes with mushrooms & scrambled eggs
Prep 10 mins | Cook 20 mins | Serves 2
250g stem truss cherry or mini roma tomatoes
Olive oil cooking spray
2 tsp olive oil
300g button mushrooms
4 free range eggs
1⁄2 cup light thickened cream
1 tbs butter
Thick wholegrain or sourdough toast, to serve
Flat-leaf parsley leaves, roughly chopped, to serve
Step 1 Preheat oven to 200°C/180°C fan-forced. Place tomatoes on a baking tray lined with baking paper. Spray liberally with oil and season with sea salt and pepper. Bake for 10–12 minutes until tender.
Step 2 Meanwhile, heat oil in a small non-stick frying pan over medium-low heat. Add mushrooms and cook, stirring occasionally, for 8 minutes.
Step 3 While mushrooms are cooking, gently whisk eggs, cream and salt and pepper in a medium bowl. Heat butter in a medium non-stick heavy-based frying pan over medium heat until foaming. Add eggs and swirl over pan base, cook without stirring for 30 seconds then gently push eggs in pan every 10 seconds using a flat-topped wooden spatula for about 2 minutes or until almost cooked through but still moist (do not over stir). Remove from heat. Serve scrambled eggs with toast, tomatoes and mushrooms. Sprinkle with parsley to serve.
Good for you ...
Truss Tomatoes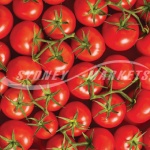 A very good source of vitamin C which contributes to the normal functioning of the body's immune system.
Provides potassium which may help balance the sodium from salt.
A source of dietary fibre which helps the normal function of the intestine.
Tomatoes are the richest food source of lycopene, a member of the carotenoid family. Research suggests that lycopene may play a role in the normal health of the prostate gland. The redder the tomato, the higher its lycopene content. Rich red tomatoes are also a source of beta carotene which is converted into vitamin A in the body and is needed for vision.