Orange, spinach, fennel & chickpea salad
Orange, spinach, fennel & chickpea salad
Prep 25 mins | Cook 5 mins | Serves 4
1 tbs extra virgin olive oil
400g can chickpeas, drained and rinsed
2 garlic cloves, finely chopped
1/2 cup natural almonds, roughly chopped
1 tsp Ras al Hanout* or Moroccan spice mix
2 oranges, peeled, pith removed and cut into rounds
100g baby spinach leaves
1 bulb baby fennel, shaved
2 green onions (shallots), trimmed and thinly sliced
½ pomegranate, pulp removed
Flatbread and lemon wedges, to serve
Tahini yoghurt:
1/3 cup Greek-style natural yoghurt
1 tbs tahini
1 tsp pomegranate molasses (optional)
Step 1 Heat oil in a medium frying pan over medium heat. Add chickpeas, garlic and almonds. Sprinkle with Ras al Hanout or Moroccan spice mix and cook, tossing often, for 2-3 minutes until fragrant. Transfer to a plate and set aside to cool.
Step 2 Combine oranges, spinach, fennel and green onions in a large bowl. Gently toss to combine. Set aside.
Step 3 To make tahini yoghurt, combine all ingredients in a bowl. Season with salt and pepper. Mix until well combined. Set aside.
Step 4 Spoon cooled chickpea mixture over orange mixture. Season with salt and pepper. Gently toss to combine. Spoon onto a serving platter and scatter over pomegranate seeds. Serve with tahini yoghurt, flatbread and lemon wedges.
*Ras al hanout is a ground Moroccan-style spice including cloves, cinnamon, peppercorns and ginger. It's available from some supermarkets and specialist delis. Moroccan spice mix is available in most supermarkets.
Good for you ...
Navel Oranges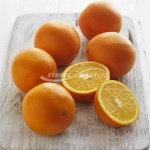 A very good source of vitamin C which contributes to the formation of collagen and its role in healthy gums, teeth, cartilage, bones and skin. Half a large orange supplies one day's recommended intake of vitamin C.
Provides a variety of carotenoids, including some beta carotene which is converted to vitamin A in the body.
A source of folate, a B vitamin that contributes to the normal functioning of the body's immune system.
Low GI (40-51) meaning that the sugars in oranges are broken down slowly and absorbed into the bloodstream.