No-bake blueberry & sweet ricotta tart
No-bake blueberry & sweet ricotta tart
Prep 25 mins + chilling time | Serves 8
Ricotta cannoli filling:
500g fresh ricotta
1/3 cup icing sugar + extra for dusting
½ tsp vanilla extract icing sugar
250g blueberries
Finely shredded orange zest and honey, to serve
Biscuit base:
250g Butternut Snap or Marie biscuits
125g unsalted butter, melted
Step 1 To make the biscuit base, place biscuits into a food processor and process until finely chopped. Add butter and process until well combined. Evenly press mixture into the base of 22cm wide x 2.5cm deep loose-base fluted tart pan. Refrigerate for 3 hours (or longer if time permits).
Step 2 To make the filling, place ricotta, icing sugar and vanilla into a medium bowl. Using electric hand beaters, beat the mixture until smooth. Cover and chill until ready to serve.
Step 3 Just before serving, fill the tart case with the ricotta mixture. Scatter with blueberries. Dust with icing sugar and sprinkle with orange zest. Drizzle with a little honey and serve.
Good for you ...
Blueberries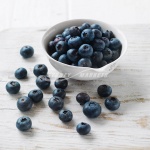 A good source of vitamin C which contributes to the normal functioning of the body's immune system.
Provide vitamin E, an antioxidant vitamin that helps protect cells from damage due to free radicals.
A source of dietary fibre, which is important for the normal functioning of the intestine.
The natural purple pigments are antioxidants and may boost the body's level of these compounds.