Nectarines with coconut & pistachio crumble
Nectarines with coconut & pistachio crumble
Prep 20 mins | Cook 15 mins | Serves 6
These delicious nectarines are lovely served warm or chilled.
150 g coconut macaroon biscuits*
1⁄2 cup shelled pistachio nuts, roughly chopped
1 orange, finely grate rind and then juice
2 tbs brown sugar
1 free range egg
6 nectarines (slipstone), halved and deseeded
Reduced fat vanilla ice-cream, to serve
*If unavailable use butternut snap cookies or Anzac biscuits.
Step 1 Preheat oven to 180°C/160°C fan-forced. Lightly grease a large shallow baking dish.
Step 2 Place biscuits and pistachio nuts in a food processor. Process until fine crumbs form. Transfer mixture to a bowl. Add orange rind, brown sugar and egg. Mix until well combined.
Step 3 Fill each nectarine half with biscuit mixture. Arrange in baking dish, drizzle with orange juice and bake, uncovered, for 12-15 minutes or until nectarines are just tender. Serve warm or at room temperature with vanilla ice-cream.
Good for you ...
Yellow Nectarines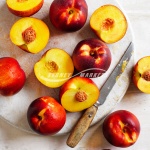 A good source of vitamin C, which contributes to the normal functioning of the body's immune system.
Provide dietary fibre which plays a role in the normal functioning of the body's immune system.
A source of potassium that may help balance the sodium from salt.
The yellow fleshed varieties provide some beta carotene which the body can convert to vitamin A. This vitamin is needed for normal vision.
Nectarines have a low GI (43) meaning their natural sugars are slowly digested and absorbed into the bloodstream.