Nectarines & cherries in vanilla bean syrup
Nectarines & cherries in vanilla bean syrup
Prep 10 mins | Cook 20 mins | Serves 4
3⁄4 cup caster sugar
11⁄2 cups water
1 vanilla bean, split lengthways
4 plump white nectarines
350g cherries (leave stem on – optional)
Reduced fat vanilla ice-cream, to serve
Step 1 Combine sugar and water in a large saucepan over medium heat. Scrape vanilla bean seeds into pan and add vanilla bean. Stir until sugar dissolves. Bring to the boil. Reduce heat and simmer, uncovered and without stirring, until reduced by a half.
Step 2 Add nectarines, cover and simmer gently, stirring occasionally, for 5 minutes. Stir in cherries. Remove from the heat and set aside to cool. Serve chilled or at room temperature with ice-cream.
Good for you ...
Cherries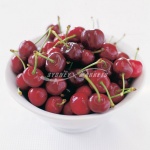 A good source of vitamin C. Among its many functions, vitamin C contributes to collagen which plays a role in healthy gums, teeth, bones, cartilage and skin.
Provide dietary fibre which helps the normal functioning of the intestine.
Cherries contain some antioxidants with the highest quantities found in fruit with darker-coloured flesh