Mushroom meatballs in cherry tomato sauce
Mushroom meatballs in cherry tomato sauce
Prep 35 mins + cooling time | Cook 40 mins | Serves 6
2 tbs olive oil
250g button mushrooms, finely diced
1 small zucchini, grated and squeezed dry
2 garlic cloves, crushed
500g lean beef mince
1 cup fresh wholegrain breadcrumbs
1 free-range egg, whisked
1 brown onion, finely chopped
700ml jar tomato passata sauce
250g cherry tomatoes, halved
500g spaghetti
Finely grated parmesan, to serve
Step 1 Heat 1 tbs oil in a large frying pan over medium heat. Add mushrooms, zucchini and garlic and cook, stirring often, for 4-5 minutes until tender. Transfer mushroom mixture to a plate lined with paper towel. Set aside to cool. Wipe pan clean with paper towel.
Step 2 Combine mushroom mixture, beef, breadcrumbs and egg in a large bowl. Season with salt and pepper. Roll heaped tablespoons of mixture into small balls. Place in a single layer on a tray lined with baking paper. Cover and refrigerate for 20 minutes.
Step 3 Heat remaining 1 tbs oil in the frying pan. Cook meatballs in batches, turning often, for 5-7 minutes or until browned. Transfer meatballs to a tray. Drain excess fat from pan. Add onion to pan and cook, stirring often, for 3-4 minutes until tender. Add tomato sauce and cherry tomatoes and bring to the boil. Add meatballs, reduce heat and simmer, stirring occasionally, for 15-20 minutes until meatballs are cooked through.
Step 4 Meanwhile, cook spaghetti following packet directions. Drain and serve with mushroom meatballs and parmesan.
Good for you ...
Mushrooms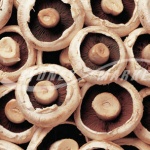 Fresh mushrooms differ from vegetables in that they supply mainly B group vitamins rather than contributing vitamin C and carotenoids (which are converted in the body to vitamin A)
They are a source of riboflavin (vitamin B2) and niacin, both of which contribute to the normal release of energy from food. They are also a source of the B vitamins pantothenic acid and biotin which both contribute to normal metabolism of fat.
A source of selenium, a mineral which contributes to the maintenance of hair and nails and the way the body uses iodine in its production of thyroid hormones.