Mushroom, leek & chickpea soup with parmesan croutons
Mushroom, leek & chickpea soup with parmesan croutons
Prep 20 mins | Cook 25 mins | Serves 4
This healthy light soup teams well with the crunchy parmesan croutons.
2 tbs olive oil
1 leek, trimmed, halved lengthways and thinly sliced
3 garlic cloves, finely chopped
400g mixed mushrooms*, trimmed and sliced
4 cups chicken stock
3 sprigs lemon thyme
400g can chickpeas, drained and rinsed
30g baby spinach leaves
1⁄4 cup flat-leaf parsley, chopped
1 tbs lemon juice
Parmesan croutons
1⁄4 cup olive oil
1⁄3 cup grated parmesan cheese
2 thick slices sourdough bread, roughly torn into bite-sized pieces
*Use a mixture of Shiitake, King Brown, Portabella and small flat mushrooms
STEP 1 To make croutons, preheat oven to 200°C/180°C fan-forced. Place oil and parmesan in a bowl. Add bread and toss to coat. Arrange bread in a single layer on a baking tray lined with baking paper. Bake for 8-10 minutes or until golden and crisp.
STEP 2 Meanwhile, heat oil in a large saucepan over medium heat. Add leek and garlic and cook, stirring often, for 4-5 minutes until tender. Add mushrooms and cook, stirring occasionally, for 3-4 minutes until just softening.
STEP 3 Add stock, thyme and chickpeas. Reduce heat to medium-low, cover and gently bring to the boil. Stir through spinach and parsley. Season with salt and pepper to taste. Ladle soup into serving bowls and serve with parmesan croutons.
Good for you ...
Mushrooms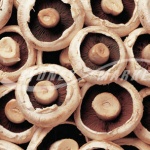 Fresh mushrooms differ from vegetables in that they supply mainly B group vitamins rather than contributing vitamin C and carotenoids (which are converted in the body to vitamin A)
They are a source of riboflavin (vitamin B2) and niacin, both of which contribute to the normal release of energy from food. They are also a source of the B vitamins pantothenic acid and biotin which both contribute to normal metabolism of fat.
A source of selenium, a mineral which contributes to the maintenance of hair and nails and the way the body uses iodine in its production of thyroid hormones.