Mushroom & lamb burgers
Prep 30 mins + chilling time | Cook 20 mins | Serves 4
150g small cup mushrooms
2 garlic cloves
1 small red onion, peeled and quartered
500g lamb mince
1 tsp ground cumin
1 tsp ground coriander
1⁄3 cup flat-leaf parsley leaves, finely chopped
1 tbs olive oil
To serve
4 wholegrain flat or hamburger rolls, split
1 just-ripe avocado
4 Iceberg lettuce leaves, torn
2 ripe tomatoes, sliced
Reduced fat tzatziki, to serve
STEP 1 Using a food processor, process mushrooms, garlic and onion until very finely chopped. Heat a medium frying pan over medium heat. Add mushroom mixture and cook, stirring often, for 2-3 minutes until mixture is softened and pan juices have evaporated. Set aside to cool for 5 minutes. Place mushroom mixture, mince, cumin, coriander and parsley in a bowl. Mix until well combined. Form mixture into 4 (about 10cm wide) patties. Place onto a plate lined with baking paper, cover and refrigerate for 30 minutes (or longer if time permits).
STEP 2 Preheat oven to 180°C/160°C fan-forced. Heat oil in a large frying pan over medium heat. Cook patties for 4-5 minutes on each side until evenly browned. Place on a baking tray and bake for 4-5 minutes until cooked through. Remove and cover with foil.
STEP 3 To serve, toast bread rolls. Peel and halve avocado. Spread roll bases with avocado, top each with lettuce, tomato, a pattie and a dollop of tzatziki. Cover with roll tops and serve.
Good for you ...
Swiss Brown Mushrooms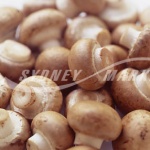 Fresh mushrooms differ from vegetables in that they supply mainly B group vitamins rather than contributing vitamin C and carotenoids (which are converted in the body to vitamin A)
They are a source of riboflavin (vitamin B2) and niacin, both of which contribute to the normal release of energy from food. They are also a source of the B vitamins pantothenic acid and biotin which both contribute to normal metabolism of fat.
A source of selenium, a mineral which contributes to the maintenance of hair and nails and the way the body uses iodine in its production of thyroid hormones.