Moroccan roasted kumara & chickpea soup
Moroccan roasted kumara & chickpea soup
Prep 20 mins | Cook 45 mins | Serves 6
750g kumara (orange sweet potato), peeled and chopped into 4-5cm pieces
2 red onions, roughly chopped
3 garlic cloves, finely chopped
2 tbs olive oil
1 tsp ground cumin
1 tsp ground coriander
400g can diced tomatoes
6 cups chicken stock
400g can chickpeas, drained and rinsed
1⁄2 cup coriander leaves, chopped + extra leaves to serve
Greek style natural yoghurt, to serve
Step 1 Preheat oven to 200°C/180°C fan-forced. Line a large roasting pan with baking paper. Place kumara, onions and garlic in pan. In a small bowl, combine oil, cumin and ground coriander. Drizzle mixture over vegetables and toss to coat in oil mixture. Roast, tossing once, for 30-35 minutes until tender.
Step 2 Place contents of the roasting pan into a large saucepan. Add tomatoes, stock and chickpeas. Cover and bring to the boil. Remove from heat.
Step 3 Using a hand blender, puree soup until smooth. Heat soup over medium heat until hot. Stir in coriander. Season with salt and pepper to taste. Ladle into serving bowls and serve topped with yoghurt and coriander leaves.
Good for you ...
Sweet Potato - Kumara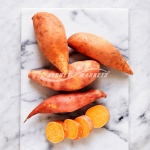 Like other orange coloured vegetables, kumara is rich in a range of carotenoids, including beta carotene, which the body converts to vitamin A (needed to for normal vision and the structure of our skin).
A good source of vitamin C, which is needed for the normal functioning of the immune system.
A good source of vitamin E, which helps protect cells from damaging free radicals
A source of dietary fibre which is needed for the normal functioning of the intestine.