Moroccan roasted butternut pumpkin with feta
Moroccan roasted butternut pumpkin with feta
Preparation 25 mins | Cooking 40 mins | Serves 6 as a side dish
This is perfect teamed with roast lamb, chicken or beef.
2 x 750g pieces halved butternut pumpkin (skin on), deseeded
1 large red onion, peeled, halved and thickly sliced
¼ cup extra virgin olive oil
2 garlic cloves, finely chopped
1 tsp Moroccan seasoning
1 tbs honey
75g feta cheese, crumbled
1/3 cup pistachios, chopped
1 small pomegranate, seeds removed
Rocket leaves, to serve
Tahini yoghurt dressing:
1 tbs tahini
1/3 cup Greek-style natural yoghurt
2 tbs lemon juice
1 tsp pomegranate molasses
Step 1 Preheat oven to 200°C fan-forced. Cut a thin slice off the base of the halved pumpkin (so it can stand upright) and cut into 2cm thick slices. Place pumpkin slices upright and close together on a baking tray lined with baking paper. Place sliced onion between the pumpkin slices.
Step 2 Combine oil, garlic, Moroccan seasoning and honey in a small bowl. Season with salt and pepper. Mix to combine. Brush mixture over pumpkin and onions to coat. Roast for 40-45 minutes until pumpkin is tender.
Step 3 Meanwhile, to make the dressing, place tahini, yoghurt and lemon juice in a bowl. Season with salt and pepper. Mix to combine. Swirl through the pomegranate molasses.
Step 4 Sprinkle pumpkin mixture with feta, pistachios and pomegranate seeds. Serve with tahini dressing and rocket leaves.
Good for you ...
Butternut Pumpkin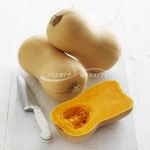 Provides beta carotene, converted to vitamin A in the body and needed for normal vision. The deeper the colour, the higher the content of beta carotene.
A source of vitamin C, which contributes to the normal functioning of the body's immune system.
Provides folate, a B vitamin that is necessary for formation of normal blood cells.