Mixed mushroom & prawn stir-fry
Mixed mushroom & prawn stir-fry
Prep 10 mins + chilling time | Cook 10 mins | Serves 4
¼ cup reduced salt soy sauce
2 tbs palm sugar or brown sugar
2 tbs mirin
1 tsp sesame oil
600g medium green prawns, peeled and deveined
2 tbs peanut oil
4 green onions (shallots), trimmed and cut into 4cm lengths
2 garlic cloves, crushed
150g shiitake mushrooms, thickly sliced
250g button mushrooms, halved
100g enoki mushrooms, trimmed
Micro-herbs (like Shiso or tatsoi) and steamed jasmine rice, to serve
Step 1 Combine soy sauce, sugar, mirin and sesame oil in a large bowl. Whisk until sugar dissolves. Add prawns. Cover and refrigerate for 15 minutes. Drain prawns, reserving marinade.
Step 2 Heat a wok over high heat. Add 1 tbs oil and half the prawns and toss until almost cooked through. Transfer prawns to a plate. Repeat using remaining prawns.
Step 3 Add remaining 1 tbs oil, green onions, garlic and shiitake and button mushrooms to wok. Stir-fry for 2 minutes until just tender. Add reserved marinade and return prawns to wok. Stir-fry until hot and bubbling. Toss through enoki mushrooms. Scatter with micro-herbs. Serve with steamed jasmine rice.
Good for you ...
Mushrooms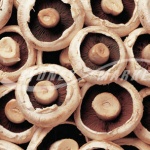 Fresh mushrooms differ from vegetables in that they supply mainly B group vitamins rather than contributing vitamin C and carotenoids (which are converted in the body to vitamin A)
They are a source of riboflavin (vitamin B2) and niacin, both of which contribute to the normal release of energy from food. They are also a source of the B vitamins pantothenic acid and biotin which both contribute to normal metabolism of fat.
A source of selenium, a mineral which contributes to the maintenance of hair and nails and the way the body uses iodine in its production of thyroid hormones.