Miso veggies & beef with noodles
Miso veggies & beef with noodles
Prep 15 mins | Cook 10 mins | Serves 4
450g fresh hokkien noodles
2 tbs vegetable or peanut oil
500g beef scotch fillet steak, sliced into thin strips
3 green onions (shallots), trimmed and cut into 3cm pieces
2 garlic cloves, finely chopped
1 bunch gai lum, trimmed and stems chopped
1 bunch asparagus, trimmed and cut into 5cm pieces
200g snow peas, trimmed
sesame seeds, to serve
Miso sauce:
2 1/2 tbs white miso paste
1 tsp sesame oil
2 tbs mirin
1 tbs water
Step 1 To make miso sauce, place all ingredients into a small bowl. Mix until well combined. Set aside.
Step 2 Place noodles into a heatproof bowl. Cover with boiling water. Stand for 1 minute or until tender. Drain and separate noodles. Keep warm.
Step 3 Heat a wok over high heat. Add oil and heat until hot. Stir-fry beef in 2 batches until evenly browned. Transfer to a plate.
Step 4 Add green onions, garlic, gai lum stems and asparagus to wok. Stir-fry for 2 minutes until vibrant. Add snow peas. Stir fry for 1 minute. Add gai lum leaves, beef and miso sauce. Toss until hot.
Step 5 Arrange noodles in 4 serving bowls. Top with beef mixture. Sprinkle with sesame seeds and serve.
Good for you ...
Asparagus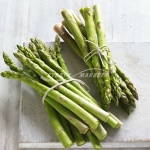 One of the best sources of natural folate. This B complex vitamin is important throughout life for normal function of the immune system. A source of vitamin C which contributes to protecting body cells from damage from free radicals.