Miso & chilli-glazed roasted eggplant
Miso & chilli-glazed roasted eggplant
Prep 15 mins | Cook 30 mins | Serves 2-4
This delicious Japanese-style eggplant dish can be served as a side dish or accompanied with rice or soba noodles for a light meal.
2 (about 350g each) plump eggplants
¼ cup white miso (Shiro) paste
2 small red chillies, deseeded and finely chopped
¼ cup mirin
1 tbs caster sugar
2 tbs vegetable, rice bran or grape seed oil
To serve:
Micro-herbs (like red shiso)
Shredded green onion (shallot) & toasted sesame seeds, to serve
Step 1 Preheat oven to 200°C fan-forced. Halve eggplants lengthways. Using a small sharp knife, score the eggplant flesh into a honeycomb pattern (do not cut through the skin). Place miso, chillies, mirin and sugar in a small bowl. Whisk to combine. Set aside.
Step 2 Heat oil in a large non-stick heatproof frying pan over medium heat. Place eggplants flesh-side down into pan. Cook for 2-3 minutes until golden. Transfer eggplants flesh-side up onto a baking tray lined with baking paper.
Step 3 Spoon miso mixture over eggplants. Roast for 25-30 minutes or until flesh is tender. Sprinkle with micro-herbs, green onions and sesame seeds and serve.
Good for you ...
Eggplant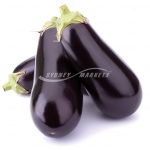 A good source of dietary fibre, which contributes to normal bowel function.
A good source of vitamin B6 that plays a role in hundreds of biochemical reactions in the body, including contributing to energy metabolism.
The purple skin is a rich source of antioxidants