Minted green peas, bacon & ricotta pasta
Minted green peas, bacon & ricotta pasta
Prep 40 mins | Cook 15 mins | Serves 4
750g fresh green peas, shelled (yielding about 300g peas)
400g dried orecchiette or shell pasta
2 tsp olive oil
250g rindless bacon rashers, chopped
2 garlic cloves, finely chopped
300g fresh ricotta, crumbled
½ cup small mint leaves, chopped
Step 1 Bring a large saucepan of water to the boil over high heat. Add green peas and cook for 2 minutes. Remove with a slotted spoon to a colander, rinse in cold water and set aside to dry.
Step 2 Bring water in the saucepan back to the boil. Add pasta and cook, following packet directions, until al dente.
Step 3 Meanwhile, heat oil a small frying pan over medium heat. Add bacon and cook, tossing often, for 4-5 minutes until crisp. Toss garlic through in the last minute of cooking. Drain bacon on paper towel.
Step 4 Drain pasta, reserving ¼ cup cooking liquid and return pasta to the pan. Add bacon, peas, ricotta and reserved cooking liquid. Season with salt and pepper to taste. Gently toss to combine. Toss through mint and serve.
Good for you ...
Green Peas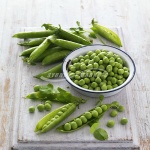 A source of protein needed for growth and repair of tissues.
A good source of dietary fibre, which helps normal laxation.
Provide B complex vitamins thiamin (B1), riboflavin (B2), niacin (B3) and folate, all needed for normal growth and development.
A source of iron, which is needed for normal cognitive function.