Mint & chilli chimichurri with chicken skewers
Mint & chilli chimichurri with chicken skewers
Prep 15 mins | Cook 10 mins | Serves 4
750g free-range chicken thighs fillets, trimmed and cut into
2-3cm strips
2 tbs olive oil
2 garlic cloves, crushed
2 tbs lime juice
2 tsp smokey paprika
1 tbs olive oil
3 large zucchini, spiralised into noodles
125g cherry tomatoes, halved
Lime wedges, to serve
Mint & green chilli chimichurri (makes ½ cup):
3/4 cup mint leaves
¼ cup flat-leaf parsley leaves
1 garlic clove, chopped
1 long green chilli, deseeded and chopped
¼ cup extra virgin olive oil
2 tbs apple cider or red wine vinegar
Step 1 To make mint & chilli chimichurri, place all ingredients in a small food processor. Season with salt and pepper. Process until finely chopped and well combined. Set aside.
Step 2 Thread chicken onto 12 small metal skewers. Combine oil, garlic, lime juice and paprika in a small bowl. Brush mixture over skewers to coat.
Step 3 Preheat a char-grill pan or barbecue over medium heat. Cook chicken, turning occasionally, for 8-10 minutes until chicken is just cooked through.
Step 4 Meanwhile, heat oil in a non-stick frying pan over high heat. Add zucchini noodles and tomatoes and toss until hot. Serve skewers with the chimichurri, zucchini noodles and lime wedges.
Good for you ...
Black Zucchini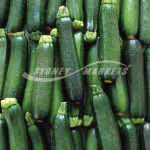 A source of vitamin C and folate. Vitamin C helps us absorb iron from foods and both these vitamins contribute to the normal functioning of the body's immune system.
Dark green varieties contribute some beta carotene, an antioxidant pigment which the body can convert to vitamin A