Minestrone Soup
Prep 30 mins | Cook 1 hr 45 mins | Serves 6
2 tbs olive oil
1 large brown onion, chopped
2 garlic cloves, finely chopped
2 carrots, peeled and diced
2 sticks celery, thinly sliced
1 medium zucchini, chopped
2 medium potatoes, peeled and diced
6 cups beef stock
810g can diced tomatoes
2 cups shredded savoy cabbage*
400g can cannellini beans, drained and rinsed
1⁄3 cup flat-leaf parsley, chopped
*You'll need about 1⁄4 small Savoy cabbage
STEP 1 Heat oil in a large saucepan over medium heat. Add onion and garlic and cook, stirring often, for 5 minutes. Add carrots, celery, zucchini and potatoes and cook, stirring often, for 5 minutes.
STEP 2 Stir in stock and tomatoes. Cover and bring to the boil over medium heat. Add cabbage, partially cover and simmer, stirring occasionally, over medium-low heat for 1 hour and 15 minutes. Stir in beans, cover and simmer for 15 minutes. Season with salt and pepper. Stir in parsley and serve.
Good for you ...
Savoy Cabbage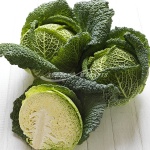 An excellent source of vitamin C, which contributes to the normal functioning of our immune system.
Provides folate, one of the B group vitamins that is needed for normal formation of blood cells.
A source of dietary fibre, which helps the intestine to function normally and keep us regular.
The darker the leaves, the higher the vitamin content.