Microwave cherry relish
Prep 25 mins | Cook 43 mins | Serves 2 cups (500ml)
Serve cherry relish with sliced turkey, ham, cooked prawns or with cheese.
1 tbs olive oil
1 medium red onion, peeled and finely chopped
2 tsp freshly-grated ginger
1⁄2 tsp ground cinnamon
750g cherries, pitted and halved
1 medium apple, roughly chopped
pinch salt
1 cup raw sugar
1⁄2 cup red wine vinegar
Step 1 Combine oil, red onion, ginger and cinnamon in a large heatproof, microwave-safe bowl. Cook uncovered on High/100% for 3 minutes or until onion is soft.
Step 2 Stir in cherries and apple. Cook uncovered on High/100%, stirring every 2 minutes, for 5 minutes. Add salt, sugar and vinegar and stir well to combine. Cook uncovered on High/100%, stirring every 10 minutes, for 35 minutes or until relish is thick.
Step 3 Ladle hot relish into a hot sterilised 2-cup (500ml) jar and seal. Once opened, store in the fridge and use within 1 month.
Good for you ...
Cherries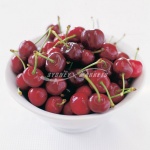 A good source of vitamin C. Among its many functions, vitamin C contributes to collagen which plays a role in healthy gums, teeth, bones, cartilage and skin.
Provide dietary fibre which helps the normal functioning of the intestine.
Cherries contain some antioxidants with the highest quantities found in fruit with darker-coloured flesh