Mexican sweetcorn & bean salad
Mexican sweetcorn & bean salad
Prep 20 mins | Cook 15 mins | Serves 4
4 sweetcorn cobs, husks and silks removed
Olive oil spray
1 ripe large avocado
2 tbs lime juice
½ cup reduced fat sour cream
2 tbs mild peri peri sauce
400g tomato medley, halved
1 green onion (shallot), finely sliced
400g can black beans, rinsed and drained
1/3 cup coriander leaves, chopped
1 cup grated cheddar cheese
Warmed tortillas, extra coriander leaves & lime wedges
Step 1 Preheat a char-grill pan or barbecue grill on medium-high heat. Spray corn with oil and char-grill or barbecue, turning occasionally, for 12-15 minutes or until charred and kernels are tender. Transfer to a board to cool.
Step 2 Peel avocado and remove seed. Scoop flesh into a bowl, add 1 tbs lime juice and roughly mash. Set aside. Combine sour cream and peri peri sauce in a bowl. Stir until just combined. Set aside.
Step 3 Combine tomatoes, green onion, black beans, coriander and remaining 1 tbs lime juice in a large bowl. Season with salt and pepper. Set aside.
Step 4 Slice corn kernels from the cobs and add to the tomato mixture. Gently toss to combine. Serve with the mashed avocado, grated cheese, peri peri, sour cream, warmed tortillas and lime wedges.
Good for you ...
Sweet Corn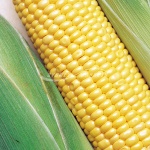 A good source of dietary fibre which contributes to normal laxation.
Provides niacin (vitamin B3) which is needed for the release of energy from food and also the B vitamins biotin and folate. Biotin contributes to the maintenance of healthy skin, mucous membranes and hair while folate is needed for the formation of blood cells. Also provides some iron that is needed for making red blood cells.
A source of potassium that may help balance the sodium in salty foods.
The carbohydrate in sweetcorn is digested slowly and has a low glycaemic index (GI)