Mexican-style sweetcorn
Preparation 20 mins | Cooking 12-15 mins | Makes 6 cobs
6 fresh sweetcorn cobs (husks on)
1/3 cup extra virgin olive oil
2 tsp smoky paprika
½ cup finely grated Manchego cheese
½ cup coriander leaves, finely chopped
1 small Jalapeno chilli, deseeded and finely chopped
Kewpie mayonnaise and lime wedges, to serve
Step 1 Place unhusked corn in a large roasting pan and pour over boiling water to cover. Stand for 2 minutes. Drain. Pull back husks, remove the fine silks and tie back husks with kitchen string.
Step 2 Combine oil, paprika and salt and pepper in a bowl. Mix to combine. Brush corn with the oil mixture. Combine coriander and chilli in a small dish and set aside.
Step 3 Preheat a greased hooded barbecue or char-grill pan over mediumhigh heat. Place each cob onto the barbecue or char-grill so the husks protrude out to avoid burning them (see note). If using a barbecue, close the hood. Cook corn, turning every 4-5 minutes, for 12-15 minutes until corn is lightly charred and just tender.
Step 4 To serve, spread hot corn with mayonnaise. Sprinkle with cheese, coriander and chilli. Serve with lime wedges.
Note; alternatively wrap the corn husks in a sheet of aluminium foil to prevent them from burning.
Good for you ...
Sweetcorn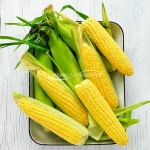 A good source of dietary fibre which contributes to normal laxation.
Provides niacin (vitamin B3) which is needed for the release of energy from food and also the B vitamins biotin and folate. Biotin contributes to the maintenance of healthy skin, mucous membranes and hair while folate is needed for the formation of blood cells. Also provides some iron that is needed for making red blood cells.
A source of potassium that may help balance the sodium in salty foods.
The carbohydrate in sweetcorn is digested slowly and has a low glycaemic index (GI)