Medjool date & banana self-saucing puddings
Medjool date & banana self-saucing puddings
Prep 20 mins | Cook 30 mins | Serves 4
1 cup self-raising flour
1⁄3 cup firmly-packed brown sugar
200g fresh Medjool dates, seeded and roughly chopped
1 tsp ground cinnamon
1⁄2 cup milk
1 very ripe banana, mashed
1 egg
100g butter, melted, cooled (+ extra for greasing)
Topping
1⁄2 cup brown sugar
1⁄4 cup golden syrup
11⁄4 cups boiling water
Sifted icing sugar, for dusting
Step 1 Preheat oven to 180°C/160°C fan-forced. Grease 4 x 1 cup teacups or ovenproof dishes with butter and place on a baking tray lined with baking paper.
Step 2 Sift flour into a large bowl. Stir in brown sugar, dates and cinnamon. Whisk milk, mashed banana, egg and melted butter together in a jug. Pour into flour mixture and using a large metal spoon, fold until combined. Spoon mixture into prepared cups or dishes.
Step 3 For topping, sprinkle 1⁄2 cup brown sugar evenly over puddings. Combine golden syrup and boiling water in a heatproof jug. Pour mixture evenly over the back of a spoon onto puddings. Bake for 30 minutes or until a skewer inserted in the centre of the puddings comes out clean. Set aside for 5 minutes. Dust with icing sugar and serve.
Good for you ...
Dates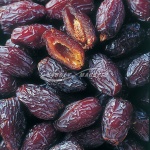 A good source of dietary fibre which is helps keep the intestine functioning normally.
Fresh dates are a source of vitamin C, which contributes to the normal functioning of the body's immune system.
Provide some folate, a B vitamin that is needed for normal formation of blood cells.
A source of potassium which may help balance the effects of the sodium from salt in the diet.