Mashed potato with kale & green onions
Mashed potato with kale & green onions
Prep 20 mins | Cook 40 mins | Serves 4-6
These warming Irish-style mashed potatoes sometimes called Colcannon is simply delicious!
1 kg brushed potatoes, peeled and cut into 5cm pieces
200g kale (about 4-5 stems)
200ml hot reduced fat milk
60g butter or margarine
2 green onions (shallots), trimmed and thinly sliced
Step 1 Place potatoes into a large saucepan, cover with water and season with salt. Bring to the boil over medium-high heat then reduce heat and gently boil for 20-25 minutes until tender. Drain and set aside in a colander for 2-3 minutes to dry. Meanwhile, wash kale, remove leaves from stems and shred leaves. Place chopped leaves into a microwave safe dish, cover and microwave on high for 2-3 minutes until tender. Drain and set aside. Return potatoes to the saucepan and mash until smooth.
Step 2 Combine hot milk and butter or margarine. Gradually, add to potato mash, beating with a wooden spoon until light and fluffy. Stir through kale and green onions. Season to salt and pepper to taste and serve.
Good for you ...
Kale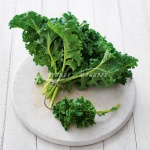 A good source of vitamins, including C and folate (both contribute to normal immune function), E (helps protect cells from damage by free radicals), K (important for normal blood clotting after injury) and beta carotene (converted to vitamin A in the body and necessary for normal vision)
Provides iron (needed for red blood cells) and calcium (important for healthy bones)
A good source of dietary fibre which is important for normal laxation.