Mangoes with peanut praline & caramel ice-cream
Mangoes with peanut praline & caramel ice-cream
Preparation 10 mins + chilling time | Cooking 10 mins | Serves 4
4 just-ripe plump mangoes
salted caramel ice-cream, to serve
Peanut praline:
1/3 cup salted roasted peanuts
1 cup caster sugar
¼ cup cold water
Step 1 To make peanut praline, line a baking tray with baking paper and sprinkle with peanuts. Set aside. Combine sugar and water in a small saucepan over low heat. Stir until sugar dissolves and bring to the boil. Boil without stirring, and occasionally brushing down the side of the pan with a wet pastry brush, for 5 minutes until golden. Set aside for a minute or until bubbles subside. Pour mixture over peanuts. Set aside for 5 minutes to set. Break the praline into small shards.
Step 2 Slice cheeks from mangoes. Score a honeycomb pattern into the flesh (avoid cutting through the skin). Push the skin side to expose the flesh then slice off the cubes.
Step 3 Scoop the ice-cream into serving bowls. Top with mango and peanut praline and serve.
Good for you ...
Mangoes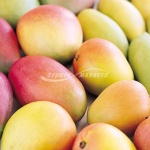 A very good source of vitamin C which contributes to the normal functioning of the body's immune system.
A good source of beta carotene, which the body converts to vitamin A. This vitamin is needed for normal vision. The deeper the colour of the mango flesh, the higher the level of beta carotene. Mango flesh also provides another carotenoid called cryptoxanthin which is being researched for its role in normal eye health.
A source of dietary fibre which is important for the normal function of the intestine.