Mangoes & bananas with palm sugar cream
Mangoes & bananas with palm sugar cream
Prep 20 mins | Cook 5 mins | Serves 4
1⁄2 cup ready to pour (or grated) palm sugar
1⁄4 cup water
1⁄2 cup light coconut cream
1 tbs lime juice
4 just-ripe small mangoes
2 ripe bananas, sliced diagonally
Shredded toasted flaked coconut and lime wedges, to serve
Step 1 To make sauce, combine palm sugar, water and coconut cream in a small heavy based saucepan. Stir over medium heat until mixture comes to the boil. Reduce heat to low, and simmer, stirring occasionally, for 3 minutes. Remove from heat, stir in lime juice and set aside to cool.
Step 2 To serve, cut cheeks from mangoes, remove skin and thickly slice. Peel and diagonally slice bananas. Arrange fruit on a serving platter or plates. Drizzle with sauce and serve with lime wedges.
Good for you ...
Mangoes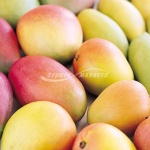 A very good source of vitamin C which contributes to the normal functioning of the body's immune system.
A good source of beta carotene, which the body converts to vitamin A. This vitamin is needed for normal vision. The deeper the colour of the mango flesh, the higher the level of beta carotene. Mango flesh also provides another carotenoid called cryptoxanthin which is being researched for its role in normal eye health.
A source of dietary fibre which is important for the normal function of the intestine.