Mango muffins
Prep 20 mins + cooling time | Cook 30 mins | Serves 6
2 cups self-raising flour
3⁄4 cup caster sugar
1 medium just-ripe mango, peeled and flesh diced
1⁄3 cup shredded coconut
2 eggs
1⁄3 cup rice bran oil or vegetable oil
250g tub light sour cream
1⁄2 cup reduced fat mango yoghurt
To serve
1 small mango, peeled and flesh sliced
Icing sugar, for dusting
Step 1 Preheat oven to 180°C/160°C fan-forced. Grease a 6-hole x 3⁄4 cup capacity muffin pan or line with paper cases.
Step 2 Sift flour into a large bowl. Stir in sugar, mango and coconut. Whisk eggs, oil, sour cream and yoghurt in a bowl until smooth. Pour mixture into dry ingredients. Using a large metal spoon, stir until just combined. Spoon mixture into pan. Bake for 30-35 minutes until golden and cooked through when tested with a skewer. Cool in pan for 5 minutes. Transfer to a wire rack to completely cool.
Step 3 To serve, top muffins with mango slices and dust with icing sugar.
Good for you ...
Mangoes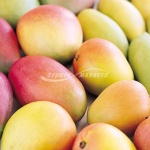 A very good source of vitamin C which contributes to the normal functioning of the body's immune system.
A good source of beta carotene, which the body converts to vitamin A. This vitamin is needed for normal vision. The deeper the colour of the mango flesh, the higher the level of beta carotene. Mango flesh also provides another carotenoid called cryptoxanthin which is being researched for its role in normal eye health.
A source of dietary fibre which is important for the normal function of the intestine.