Mango, cucumber & herb prawn salad
Mango, cucumber & herb prawn salad
Prep 25 mins | Serves 4
2 plump Lebanese cucumbers, cut into 5cm batons
1-2 long red chillies, thinly sliced (seeds in)
4 cups finely shredded Chinese cabbage (about 1/2 medium)
2 cups finely shredded red cabbage (about ¼ medium)
1/2 small red onion, halved and very thinly sliced
1 cup mint leaves
1 cup Thai basil leaves
2 just-ripe mangoes, peeled and cut into thin ribbons
500g cooked king prawns, peeled and deveined
1/3 cup roasted cashews, roughly chopped
Lime wedges, to serve
Sweet chilli & lime dressing:
1/3 cup sweet chilli sauce
¼ cup lime juice
2 tsp soy sauce
Step 1 To make the sweet chilli & lime dressing, combine all ingredients in a screw-top jar. Shake until well combined. Set aside.
Step 2 Combine cucumbers, chillies, cabbage, onion, mint and Thai basil in a large bowl. Drizzle with half of the dressing and gently toss to combine.
Step 3 Arrange the cabbage salad in serving bowls, top with mango and prawns. Sprinkle with cashews. Drizzle with the remaining dressing and serve with lime wedges.
Good for you ...
Mangoes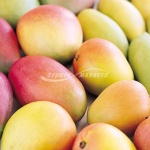 A very good source of vitamin C which contributes to the normal functioning of the body's immune system.
A good source of beta carotene, which the body converts to vitamin A. This vitamin is needed for normal vision. The deeper the colour of the mango flesh, the higher the level of beta carotene. Mango flesh also provides another carotenoid called cryptoxanthin which is being researched for its role in normal eye health.
A source of dietary fibre which is important for the normal function of the intestine.