Mango, cucumber & chicken rice paper rolls
Mango, cucumber & chicken rice paper rolls
Prep 30 mins | Serves 8
For ease, use the flesh from half a take-away barbecued chicken.
4 crisp Iceberg lettuce leaves
1 large Lebanese cucumber
1 medium just-ripe mango
2 cups cooked shredded chicken
8 x 22 cm wide rice papers
2 tbs sweet chilli sauce + extra to serve
Step 1 To prepare filling, break lettuce into large bite size pieces. Cut cucumber in half, then halve lengthways and cut into very thin strips. Cut flesh, close to the stone, from the mango, remove skin and cut mango into thin strips. Place these ingredients and chicken on plates on a work bench.
Step 2 Place a shallow bowl of warm water on bench. Dip a rice paper wrapper into the water and soak for about 20-30 seconds on each side until just tender. Place on a damp cloth. In the centre, arrange 3-4 strips of mango, then top with 3-4 cucumber strips, 1⁄4 cup chicken and a few pieces of lettuce. Drizzle with 1 tsp sweet chilli sauce. Fold over one edge of rice paper to cover filling, tuck in sides and roll up to enclose the filling. Place on plate, cover with plastic. Repeat using remaining ingredients. Cut rolls in half if liked and serve with extra sweet chilli sauce.
Good for you ...
Mangoes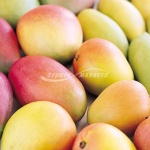 A very good source of vitamin C which contributes to the normal functioning of the body's immune system.
A good source of beta carotene, which the body converts to vitamin A. This vitamin is needed for normal vision. The deeper the colour of the mango flesh, the higher the level of beta carotene. Mango flesh also provides another carotenoid called cryptoxanthin which is being researched for its role in normal eye health.
A source of dietary fibre which is important for the normal function of the intestine.