Mango & corn salsa with sticky pork tortillas
Mango & corn salsa with sticky pork tortillas
Prep 30 mins | Cook 10 mins | Serves 4
This mango & corn salsa, sticky pork, lettuce and sour cream combination is great wrapped in the tortillas.
2 tbs marmalade
2 tbs olive oil
400g pork fillet, trimmed and cut into 1cm-thick slices
2 sweetcorn cobs, husks and silks removed
1 just-ripe mango
1 tsp finely chopped chives
1 tbs sweet chilli sauce
1⁄2 small iceberg lettuce, cut into thick wedges
1⁄3 cup reduced fat sour cream
8 reduced fat tortillas, warmed, to serve
Step 1 Place marmalade and oil in a medium bowl. Season with sea salt and pepper. Mix to combine. Add pork and stir to coat. Cover and refrigerate for 20 minutes.
Step 2 Meanwhile, to make the salsa, wash corn and place in a single layer in a shallow microwave safe dish. Cover and microwave on high for 3 minutes or until kernels are just tender. Stand for 10 minutes. Slice off corn kernels and place into a bowl. Peel mango and dice flesh. Add mango, chives and sweet chilli sauce to corn. Stir to combine. Set aside.
Step 3 Heat a greased wok or non-stick frying pan over medium heat. Cook pork, tossing often, for 3-4 minutes until just cooked through. Transfer to a plate, cover and rest for 2 minutes. Serve pork with salsa, lettuce, sour cream and warmed tortillas.
Good for you ...
Mangoes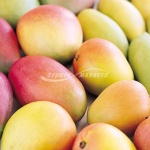 A very good source of vitamin C which contributes to the normal functioning of the body's immune system.
A good source of beta carotene, which the body converts to vitamin A. This vitamin is needed for normal vision. The deeper the colour of the mango flesh, the higher the level of beta carotene. Mango flesh also provides another carotenoid called cryptoxanthin which is being researched for its role in normal eye health.
A source of dietary fibre which is important for the normal function of the intestine.