Mandarin & chilli pork tray bake
Mandarin & chilli pork tray bake
Preparation 25 mins | Cooking 40 mins | Serves 4
1½ tbs peanut oil
4 x 250g pork cutlets
3 green onions (shallots), trimmed and thinly sliced
2 garlic cloves, finely chopped
1 tbs finely grated fresh ginger
2 long red chillies, halved lengthways, deseeded and finely chopped
1 small red chilli, halved lengthways deseeded and finely chopped
1 cup freshly-squeezed mandarin juice (about 8 mandarins)
1 tbs tamarind puree
1 tbs brown sugar
3 tsp fish sauce
2 mandarins, peeled and segmented (remove white pith)
Coriander leaves, steamed Asian greens and jasmine rice, to serve
Step 1 Preheat oven to 200°C/180°C fan-forced. Heat 1 tbs oil in a large frying pan over medium-high heat. Season pork cutlets with salt and pepper and cook for 1-2 minutes on each side until browned. Place pork onto a large baking tray lined with baking paper.
Step 2 Add green onions, garlic, ginger and chillies to the frying pan and cook, stirring, over medium heat for 2-3 minutes until softened. Add mandarin juice, tamarind puree, fish sauce and brown sugar. Stir to combine and bring to the boil. Reduce heat and simmer, stirring occasionally, for 15 minutes until sticky.
Step 3 Pour hot mandarin mixture over the pork. Add mandarin segments. Bake for 6-8 minutes or until pork is golden and just cooked through. Scatter with coriander leaves. Serve pork with steamed Asian greens and jasmine rice.
Good for you ...
Imperial Mandarins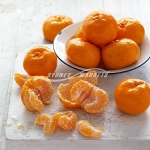 A good source of vitamin C. This vitamin contributes to collagen which plays a role in healthy gums, teeth, bones, cartilage and skin. One large mandarin will provide the daily need for vitamin C.
Provide dietary fibre which is important for the normal function of the intestine.
A source of potassium, which may help balance the sodium from salt.
A source of xanthophyll, one of the carotenoid family of antioxidants.