Lychee, cucumber & duck noodle salad
Lychee, cucumber & duck noodle salad
Prep 30 mins | Cook 10 mins | Serves 4
300g pkt Peking Roast Duck Breast*
450g fresh thin hokkien noodles
12 (about 350g) lychees, peeled and deseeded
1 long red chilli, deseeded and thinly sliced
2 green onions (shallots), trimmed and thinly sliced
1 cup coriander leaves
1 Lebanese cucumber, cut into matchsticks
50g baby Asian salad greens
Hoi sin dressing
1 tbs light soy sauce
2 tbs hoi sin sauce
2 tsp caster sugar
3-4 drops of sesame oil (to taste)
*Luv-A-Duck Peking roast duck breast is available in the fridge at large supermarkets – if preferred use the flesh of half a barbecued chicken.
Step 1 Cook duck following packet directions. Set aside for 10 minutes to cool inpan juices. Meanwhile, place noodles in a heatproof bowl. Cover with boiling water and stand for 2-3 minutes until tender. Separate noodles and drain. Set aside.
Step 2 Combine lychees, chilli, green onions, coriander, cucumber and salad greens in large bowl. To make dressing, combine 2 tbs duck pan juices and dressing ingredients in a screw top jar. Shake until well combined.
Step 3 To serve, slice duck. Arrange noodles, duck and lychee salad in serving bowls. Drizzle with dressing and serve.
Good for you ...
Lychees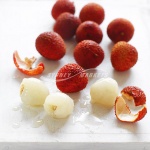 Lychees are good source of vitamin C, which contributes to the normal functioning of the body's immune system. 100g of lychee flesh provides the recommended dietary intake of vitamin C for a day.
Lychees contribute some dietary fibre, which helps the normal function of the intestine.