Lime-marinated fish with cucumber & avocado salad
Lime-marinated fish with cucumber & avocado salad
Prep 20 mins | Cook 10 mins | Serves 4
2 tbs lime juice
2 tbs olive oil
4 thick (200g each) white fish fillets, cutlets or steaks (like blue-eye)
Steamed jasmine rice and lime wedges, to serve
Cucumber & avocado salad
3 Lebanese cucumbers
1 just-ripe avocado, halved lengthways, peeled, deseeded and sliced
2 green onions (shallots), trimmed and thinly sliced
1 tbs extra virgin olive oil
1⁄4 cup unsalted roasted peanuts, chopped
2 tbs fried shallots*
*Fried shallots are available from Asian food shops and large supermarkets.
Step 1 Combine lime juice and olive oil in a shallow medium dish. Season with salt and pepper to taste. Add fish, turn to coat, and refrigerate to marinate for 15 minutes.
Step 2 Meanwhile, make cucumber and avocado salad, using a vegetable peeler, thinly slice cucumbers lengthways and place in a bowl. Add avocado, green onions and oil. Season with salt and pepper to taste. Toss to combine. Just before serving toss through peanuts and fried shallots.
Step 3 Preheat a char-grill or barbecue on medium-high. Char-grill or barbecue fish for 4–6 minutes on each side (depending on thickness) until just cooked through. Serve fish with cucumber and avocado salad, steamed jasmine rice and lime wedges.
Good for you ...
Cucumber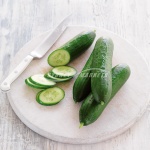 A good source of vitamin C. One of the many functions of vitamin C is the normal formation of collagen which is important for healthy teeth, gums and skin.