Lime cheesecake with summer fruits
Lime cheesecake with summer fruits
Prep 30 mins + chilling time | Serves 8-10
150g Granita biscuits (or use similar sweet biscuits)
75g butter, melted
½ cup fresh lime juice (about 4-5 limes)
1 tbs powdered gelatine
500g cream cheese, softened
395g can sweetened condensed milk
2 tbs caster sugar
1 tsp vanilla extract
1 tbs finely grated lime zest
¾ cup thickened cream, whipped
To serve:
10 lychees, peeled
1 mango, flesh thinly sliced
1/2 lime, thinly sliced
2 plump passionfruit
Step 1 Line the base and sides of a 20 cm spring-form pan with baking paper. Place biscuits into a food processor and process until fine crumbs form. Add melted butter and process until well combined. Spoon mixture into the base of the prepared pan. Using the base of a glass, press crumbs to evenly line the base. Refrigerate for 30 minutes.
Step 2 Heat lime juice in a heatproof jug in the microwave for 20-30 seconds or until hot. Add gelatine and whisk until gelatine dissolves. Set aside to cool.
Step 3 Using an electric mixer, beat cream cheese, condensed milk, sugar and vanilla until smooth. Add gelatine mixture and lime zest. Beat until well combined. Gently fold through whipped cream. Spoon mixture into the pan. Cover and chill for 5 hours or overnight.
Step 4 Transfer cheesecake to a serving plate. Decorate with lychees, mango and lime slices. Drizzle with passionfruit pulp and serve.
Good for you ...
Lychees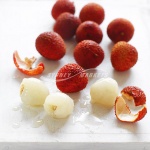 Lychees are good source of vitamin C, which contributes to the normal functioning of the body's immune system. 100g of lychee flesh provides the recommended dietary intake of vitamin C for a day.
Lychees contribute some dietary fibre, which helps the normal function of the intestine.