Lime & lemongrass chicken with bok choy
Lime & lemongrass chicken with bok choy
Prep 15 mins (+ marinating time) | Cook 15 mins | Serves 4
3 garlic cloves, finely chopped
1⁄4 cup lime juice
1 stem lemongrass, bruised, trimmed and finely sliced
600g chicken thigh fillets, trimmed and thickly sliced
21⁄2 tbs peanut oil
2 red onions, cut into thin wedges
2 bunches baby bok choy
1⁄4 cup Vietnamese dipping sauce or sweet chilli sauce
1⁄2 cup coriander leaves
Steamed jasmine rice, to serve
Step 1 Combine garlic, lime juice and lemongrass in a shallow ceramic dish. Add chicken and toss to coat. Cover and refrigerate for 1–2 hours to marinate.
Step 2 Heat 1 tbs oil in a wok over high heat. Using a slotted spoon, add half the chicken. Stir-fry for 2–3 minutes until golden and almost cooked through. Transfer to a plate. Repeat using 2 tsp oil and remaining chicken.
Step 3 Add remaining 1 tbs oil and onions to wok. Stir-fry over high heat for 1 minute. Add bok choy and dipping or sweet chilli sauce. Stir-fry for 1 minute. Add chicken and stir-fry for 2 minutes. Toss through coriander and serve with steamed jasmine rice.
Good for you ...
Limes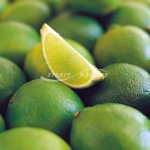 Like all citrus fruits, limes are a good source of vitamin C which contributes to the normal functioning of the body's immune system.
The flesh of limes provides dietary fibre, which helps keep the intestine functioning normally.