Lettuce, cucumber, radish & chicken salad
Lettuce, cucumber, radish & chicken salad
Prep 20 mins | Cook 5 mins + 10 mins standing time | Serves 4
1 lemon, sliced
4 sprigs thyme
500g small free-range chicken breast fillets
2 Lebanese cucumbers
½ Iceberg lettuce, trimmed, quartered and thickly sliced
2 green onions (shallots), trimmed and finely shredded
4 radishes, trimmed and very thinly sliced
Mint leaves and lemon wedges, to serve
Mint & buttermilk dressing:
½ cup mint leaves, finely chopped
½ cup buttermilk
¼ cup Greek-style natural yoghurt
1 tbs lemon juice
Step 1 Place lemon and thyme into a deep frying pan of water. Bring to the boil over high heat. Add chicken, cover and cook for 5 minutes. Remove from heat, cover with a lid and stand for 10 minutes or until chicken is cooked through. Transfer chicken to a plate, cover and refrigerate until cooled then shred chicken.
Step 2 To make dressing, combine all ingredients in a bowl. Season with salt and pepper to taste. Whisk to combine.
Step 3 Using a vegetable peeler cut cucumbers lengthways into thin ribbons and discard seed core. Arrange cucumbers, lettuce, green onions, radishes and chicken on a serving platter or plates. Drizzle with dressing. Scatter with mint leaves and serve with lemon wedges.
Good for you ...
Lebanese Cucumber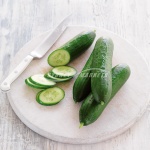 A good source of vitamin C. One of the many functions of vitamin C is the normal formation of collagen which is important for healthy teeth, gums and skin.