Lemongrass, ginger & lemon cordial
Lemongrass, ginger & lemon cordial
Prep 20 mins + chilling time | Cook 20 mins | Makes 2 cups
2 cups caster sugar
1 cup water
2 stems lemongrass, crushed and chopped
200g fresh ginger, peeled and finely chopped
1 cup lemon juice (about 3 lemons)
Step 1 Combine sugar and water in a medium saucepan. Stir over medium heat until sugar dissolves then bring to the boil. Boil for 1 minute. Add lemongrass, ginger and lemon juice. Boil for 1 minute.
Step 2 Reduce heat to low and simmer for 10 minutes. Remove from heat. Set aside to cool to room temperature for flavours to develop.
Step 3 When cool, strain and pour cordial into a clean bottle. Seal and chill until ready to serve. Use within 2 weeks.
Serving suggestions
Serve with sparkling mineral water, mint leaves, sliced lemon and crushed ice.
For a cocktail, add vodka or gin to taste and team with soda water, lemon slices and crushed ice.
Good for you ...
Lemons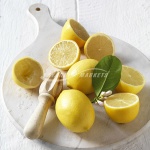 A good source of vitamin C which contributes to the normal functioning of the body's immune system.
The flesh and skin of lemons provide dietary fibre, which helps keep the intestine functioning normally.