Lemon delicious pudding
Prep 25 mins | Cook 45 mins | Serves 4
This lovely tangy dessert is best served shortly after baking.
50g butter, softened + extra for greasing
3⁄4 cup caster sugar
3 x 60g free-range eggs (at room temperature), separated
1⁄3 cup lemon juice
2 tsp finely grated lemon rind
1⁄3 cup self-raising flour
1 cup milk
Icing sugar mixture, for dusting
2 passionfruit, pulp removed
Step 1 Preheat oven to 180°C/160°C fan forced. Lightly grease 5-cup (base about 12cm wide x 22cm long x 6 cm deep) baking dish with butter.
Step 2 Using an electric hand beater, beat butter and 1⁄2 cup caster sugar in a medium mixing bowl until light and creamy. Add egg yolks, one at a time, beating well after each addition. Add lemon juice and lemon rind (mixture will curdle). Mix until well combined. Sift over flour and add milk. Using a large metal spoon, gently stir to combine.
Step 3 In a clean bowl, beat egg whites until soft peaks form. Beat in the remaining 1⁄4 cup caster sugar until thick and glossy. Using a large metal spoon, fold one third of egg whites into lemon mixture until combined. Gently fold in remaining egg whites. Spoon mixture into prepared dish. Place dish in a deep baking pan. Pour boiling water into baking pan to come half way up the sides of the dish. Bake for 40-45 minutes until pudding has risen and is pale golden. Carefully remove from oven. Stand 5 minutes then remove dish from water. Dust with icing sugar and serve drizzled with passionfruit pulp.
Good for you ...
Lemons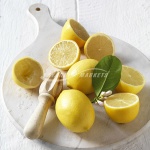 A good source of vitamin C which contributes to the normal functioning of the body's immune system.
The flesh and skin of lemons provide dietary fibre, which helps keep the intestine functioning normally.