Leek, mushroom & baby spinach risotto
Leek, mushroom & baby spinach risotto
Prep 20 mins | Cook 30 mins | Serves 4
300g Swiss Brown button mushrooms, sliced
41⁄2 cups chicken or vegetable stock
2 tbs olive oil
2 leeks, trimmed, halved lengthways and finely sliced
2 garlic cloves, crushed
2 cups Arborio* short-grain rice
1⁄2 cup dry white wine
1⁄2 cup finely grated parmesan cheese
100g baby spinach leaves
Extra finely grated parmesan cheese, to serve
*Arborio rice is a short-grain rice used for risotto
Step 1 Combine mushrooms and stock in a medium saucepan. Bring to the boil over medium heat. Reduce heat to low and simmer for 10 minutes. Using a slotted spoon, transfer mushrooms to a plate. Reheat stock over medium heat until just boiling.
Step 2 Meanwhile, heat oil in a large saucepan over medium heat. Add leeks and garlic and cook, stirring often, for 5 minutes or until leeks are tender. Add rice and cook, stirring constantly, for 1–2 minutes or until rice begins to become transparent. Add wine and cook until wine is almost evaporated.
Step 3 Gradually add small ladlefuls of boiling stock to the rice, stirring constantly (this takes about 15 minutes). Stir in mushrooms with the last ladleful of stock. Stir to combine (at this point rice should be just tender and creamy, if not add extra stock). Stir in spinach. Remove from heat, stir in parmesan and season with salt and pepper to taste. Serve with extra grated parmesan cheese.
Good for you ...
Leeks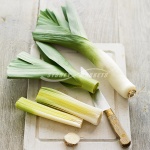 A good source of dietary fibre, which helps with normal laxation.
Provide vitamin C which helps us absorb iron from food.
The green parts of the leek are a source of several members of the carotenoid family, including beta carotene which the body converts to vitamin A.