Leek, fennel & zucchini soup with pistou
Leek, fennel & zucchini soup with pistou
Preparation 25 mins | Cooking 45 mins | Serves 4-6
The French-style pistou adds a delicious flavour to this soup. For ease, you can replace the pistou with a drizzle of store-bought basil pesto.
2 tbs olive oil
2 leeks (white part only), halved lengthways, washed and thinly sliced
1 medium (about 550g) bulb fennel, trimmed, slice stems and leaves
and dice the bulb
1 stick celery (including leaves), finely sliced
3 garlic cloves, finely chopped
250g zucchini, halved lengthways and sliced
200g Desiree potato, peeled and diced
6 cups chicken or vegetable stock
Basil leaves and toasted wholegrain bread, to serve
Pistou:
4 garlic cloves, peeled
½ cup basil leaves
½ tsp sea salt flakes
¼ cup extra virgin olive oil
2/3 cup finely grated parmesan
Step 1 Heat oil in a large saucepan over medium heat. Add leeks and fennel and cook, stirring often, for 5 minutes or until softened. Add celery, garlic, zucchini and potato. Cook, stirring occasionally, for 5 minutes. Stir in stock, cover and bring to the boil over medium heat. Reduce heat, partially cover and gently simmer, stirring occasionally, for 30 minutes or until vegetables are tender.
Step 2 Meanwhile, to make the pistou, place garlic, basil and sea salt flakes into a mortar & pestle and pound until pureed. Add oil and parmesan. Stir until well combined.
Step 3 Ladle soup into serving bowls. Drizzle with the pistou. Scatter with a few extra basil leaves. Serve with toasted wholegrain bread.
Good for you ...
Leeks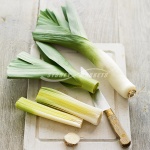 A good source of dietary fibre, which helps with normal laxation.
Provide vitamin C which helps us absorb iron from food.
The green parts of the leek are a source of several members of the carotenoid family, including beta carotene which the body converts to vitamin A.