Leek, celeriac & chicken soup
Leek, celeriac & chicken soup
Prep 25 mins | Cook 45 mins | Serves 4-6
For ease use the flesh of a take-away barbecued chicken.
2 tbs olive oil
2 medium leeks, trimmed, halved lengthways and thinly sliced
2 garlic cloves, finely chopped
1 small celeriac (about 750g)*, trimmed, peeled and diced
450g Desiree potatoes, peeled and diced into 2cm pieces
6 cups chicken stock
2 cups shredded cooked chicken
1 tbs finely chopped dill
2 tsp lemon juice
Thick wholegrain toast, to serve
*About 400g diced celeriac is required. Place celeriac in a bowl of water with lemon juice added to prevent browning.
Step 1 Heat oil in a large saucepan over medium heat. Add leeks and garlic and cook, stirring often, for 5-7 minutes until leeks soften.
Step 2 Add celeriac, potatoes and stock to the pan. Increase heat to medium-high, cover and bring the boil. Reduce heat and simmer, partially covered, for 20-25 minutes until vegetables are tender.
Step 3 Puree soup until smooth. Stir through chicken, dill and lemon juice. Heat, stirring occasionally, over medium heat until hot. Season with salt and pepper to taste. Serve with thick wholegrain toast.
Good for you ...
Celeriac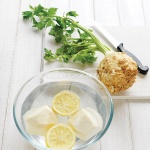 Comes top of the class for its high dietary fibre content. This helps the intestine function normally.
A source of potassium, which can help balance the salt content in our daily diets.
Provides vitamins, including riboflavin (vitamin B2) which contributes to normal skin structure and vitamin C which assists the normal functioning of the immune system.