Kumara soup with lemongrass, chilli & coconut
Kumara soup with lemongrass, chilli & coconut
Prep 35 mins | Cook 40 mins | Serves 4-6
This soup thickens on standing, add extra stock if required.
1 stem lemongrass, trimmed and chopped (use white part only)
1 brown onion, peeled and roughly chopped
2 garlic cloves, peeled and halved
3 cm piece fresh ginger, peeled and chopped
2 small bird's eye red chillies, halved lengthways and deseeded
2 tbs canola or peanut oil
1 kg kumara (orange sweet potato), peeled and roughly chopped
4 cups chicken or vegetable stock
2⁄3 cup light coconut milk
1⁄2 cup coriander leaves, finely chopped
1 tbs lime juice
Sliced red chillies and coriander leaves, to serve
Step 1 Place lemongrass, onion, garlic, ginger and chillies in the bowl of a small food processor and process until finely chopped.
Step 2 Heat oil in a large saucepan over medium-high heat. Add lemongrass mixture and cook, stirring, for 2 minutes until fragrant. Add kumara and cook, stirring occasionally, for 5 minutes. Stir in stock, cover and bring to the boil. Reduce heat to medium-low, partially cover and simmer, stirring occasionally, for 25-30 minutes or until kumara is tender.
Step 3 Using an electric hand blender, blend soup until smooth. Stir in coconut milk, coriander and lime juice. Season with salt and pepper to taste. Heat soup until hot. Ladle into bowls, top with sliced chilli and coriander leaves and serve.
Good for you ...
Sweet Potato - Kumara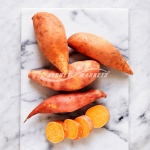 Like other orange coloured vegetables, kumara is rich in a range of carotenoids, including beta carotene, which the body converts to vitamin A (needed to for normal vision and the structure of our skin).
A good source of vitamin C, which is needed for the normal functioning of the immune system.
A good source of vitamin E, which helps protect cells from damaging free radicals
A source of dietary fibre which is needed for the normal functioning of the intestine.