Kohlrabi & haloumi fritters with smoked salmon
Kohlrabi & haloumi fritters with smoked salmon
Preparation 25 mins | Cooking 20 mins | Makes 12
2 small (about 250g each) kohlrabi
1 medium carrot, coarsely grated
3 green onions (shallots), trimmed and thinly sliced
180g haloumi, coarsely grated
2/3 cup self-raising flour
2 free range eggs, lightly beaten
¼ cup chopped dill + extra to serve
2 tbs light flavoured extra virgin olive oil, for pan-frying
200g sliced smoked salmon, trimmed
½ cup crème fraîche or sour cream
200g smoked salmon, sliced, to serve
Lemon wedges, to serve
Step 1 Preheat oven to 150°C/130°C fan-forced. Cut the leaves and stems from kohlrabi, then peel with a small sharp knife. Coarsely grate the bulb. Place kohlrabi between sheets of paper towel and squeeze to remove excess moisture.
Step 2 Combine kohlrabi, carrot, green onions, haloumi, flour, eggs and dill in a large bowl. Season with pepper. Mix well to combine.
Step 3 Heat 1 tbs oil in a large non-stick frying pan over medium heat. Cooking in batches, add 1/3 cup kohlrabi mixture per fritter to the pan. Flatten slightly with a spatula. Cook for 2-3 minutes on each side or until golden and almost cooked through. Place fritters on a rack on a tray lined with paper towel and keep warm in the oven between cooking batches (this ensures they are cooked right through too).
Step 4 Serve warm fritters with smoked salmon, crème fraîche or sour cream, extra chopped dill and lemon wedges.
Good for you ...
Kohlrabi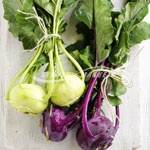 An excellent source of vitamin C which helps us absorb iron from food and also contributes to protecting cells from damage by free radicals.
A source of dietary fibre which helps the intestine function normally.
Provides niacin (vitamin B3) which is needed for the normal release of energy from food.