Kale with garlic, currants & pine nuts
Kale with garlic, currants & pine nuts
Prep 15 mins | Cook 10 mins | Serves 4 as a side dish
2 tbs currants
2 bunches kale (weighing about 450g*)
2 tbs olive oil
2 tbs pine nuts
2 garlic cloves, finely chopped
1⁄4 cup chicken stock
*Kale bunch size varies – you'll require about 225g trimmed leaves
STEP 1 Place currants in a teacup, cover with boiling water and stand for 5 minutes. Trim kale, remove large stems and roughly chop leaves. Wash well. Set aside in a colander to drain.
STEP 2 Heat oil in a medium frying pan over medium heat. Add pine nuts and cook, stirring, for 1-2 minutes until golden. Using a slotted spoon, transfer pine nuts to a plate.
STEP 3 Add kale and garlic to pan and toss over medium heat for 1-2 minutes until leaves just soften. Add stock, cover and cook for 2 minutes until leaves wilt. Reduce heat to medium-low, add drained currants and simmer for 2-3 minutes until kale is just tender. Toss through pine nuts. Season with salt and pepper and serve.
Good for you ...
Kale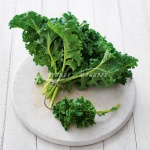 A good source of vitamins, including C and folate (both contribute to normal immune function), E (helps protect cells from damage by free radicals), K (important for normal blood clotting after injury) and beta carotene (converted to vitamin A in the body and necessary for normal vision)
Provides iron (needed for red blood cells) and calcium (important for healthy bones)
A good source of dietary fibre which is important for normal laxation.