Jap pumpkin with parmesan & seed crumble
Jap pumpkin with parmesan & seed crumble
Prep 20 mins | Cook 45 mins | Serves 6 as a side dish
1 kg piece Jap pumpkin
Oil cooking spray
1 cup fresh wholegrain or sourdough breadcrumbs
⅓ cup rolled oats
½ cup grated parmesan
2 tbs pumpkin seeds
2 tbs rice bran oil
Step 1 Preheat oven to 180°C/160°C fan-forced. Cut pumpkin in half remove seeds then cut into 2cm thick wedges (leave skin on). Arrange pumpkin in a single layer on a large baking tray lined with baking paper. Spay pumpkin with oil on both sides. Roast for 15 minutes.
Step 2 Meanwhile, combine breadcrumbs, oats, parmesan, pumpkin seeds and oil in a bowl. Season with salt and pepper. Mix until well combined.
Step 3 Carefully remove pumpkin from oven and liberally sprinkle with breadcrumb mixture. Roast for a further 25-30 minutes until crumble mixture is golden and pumpkin is just tender and serve.
Good for you ...
Jap Pumpkin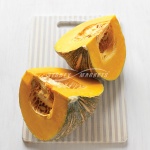 Provides beta carotene, converted to vitamin A in the body and needed for normal vision. The deeper the colour, the higher the content of beta carotene.
A source of vitamin C, which contributes to the normal functioning of the body's immune system.
Provides folate, a B vitamin that is necessary for formation of normal blood cells.