Indian-spiced winter vegetables
Indian-spiced winter vegetables
Prep 20 mins | Cook 35 mins | Serves 4 as a side dish
This dish is excellent served with tandoori chicken or as a vegetable dish to accompany a curry.
2 tbs vegetable oil
20g butter
1 tsp brown mustard seeds
1⁄2 tps ground tumeric
1 tsp ground cumin
3cm piece fresh ginger, peeled and chopped
1 long red chilli, deseeded and chopped
1⁄4 medium cauliflower, trimmed and cut into florets
2 Desiree potatoes, peeled and chopped into 3cm pieces
2 carrots, peeled and cut into 2cm-thick slices
1 cup chicken stock
coriander leaves, tzatziki dip and naan bread, to serve
Step 1 Heat oil and butter in a large non-stick frying pan over medium-high heat. Add mustard seeds, turmeric, cumin, ginger and chilli and cook, stirring, for 1 minute.
Step 2 Add cauliflower, potatoes and carrots. Stir to combine. Cover and cook for 5 minutes. Stir in chicken stock and bring to the boil. Reduce heat to medium-low, cover and simmer, stirring occasionally, for 20 minutes or until vegetables are tender. Uncover and cook until stock has evaporated. Spoon onto a serving plate. Sprinkle with coriander and serve with tzatziki dip and naan bread.
Good for you ...
Cauliflower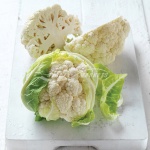 A source of dietary fibre which helps normal functions of the intestine to help keep us regular.
A good source of vitamin K which is one of the many nutrients contributing to normal bone structure.
An excellent source of vitamin C, with 100g supplying well over a full day's requirement. This vitamin contributes to the normal immune function.
A source of folate, a B vitamin that is important for normal blood cells.